India is a land of dreamers. Some dreamers achieve their dreams, some do not. The motivation is to come out of their present situation. There are some Indians who inspire other Indians and people around the world to dream big and work hard to achieve the dream. Here are 8 famous rags to riches stories in India that Indians can be proud of.
Dhirubhai Ambani
Famous Rags to riches tale cannot be complete without the mention of biggest business tycoon India has ever produced. Going abroad at young age and learning the nuances of business and investments, Dhirubhai returned wiser and with a dream to make it big. That's exactly what he did with his Reliance Industries which now is almost in every sector right from petroleum to telecom. Money management can be a real asset for any businessman and Ambani senior proved it big time. He earned and saved from foreign land while all the time planning how to use it later for business.
Narayana Murthy
A man with a secured job in IT during later 80's decides to start a business with a loan from his wife! Sounds incredulous? Meet the multi millionaire IT Czar Narayana Murthy who founded Infosys with his friends and colleagues. The company has been part of top 3 performers in ITES in India for 2 decades now. Infosys employs more than 150000 people and has made many common investors rich. Humble beginning did not stop him from reaching where he stands today with a huge tale of struggle. The belief in investment is what makes you different from a failure.
Gautam Adani
Another businessman who came in without much in hand at the tender age of 18 to city of million dreams Mumbai. With his undying vision for growth and penchant for creating wealth, Adani created the business empire that he owns and runs today. His grit has made him an employer to 60,000+ employees and helped build a huge conglomerate worth over $40 billion today. Understanding the importance of wealth is what made him such a success in this uber competitive world today.
Dharampal Gulati
He today is quite popular as the grandpa from MDH masala ads, but not everything was so much vibrant in the beginning. The beginnings are always tough and that is what people miss out on as they only get to see the success. Dharampal Gulati was one person who knew what it was to be small and operated a tonga around erstwhile Delhi. Later he would move to a Karol Bagh shop the size of which was just about 14ft x 9ft. The Masala King you all see today on the screen has a huge business catering to UK, USA, Canada and many European countries. Gulati is the typical Indian story of making a business grind it out and work, literally!
Indira Nooyi
Though she may not be in India, this list cannot be complete without an Indian woman icon. The CEO of Pepsico was not always a rich lady to start with. Her initial days went in quite the different direction from where she stands today. She worked night shifts to pay for her college fee and this is how she purchased the dress she wore for her initial interview. Clearly there is a pattern to how successful people invest in their belief for the long term. Investment can only bloom when you know it's going in the right direction.
Kalpana Saroj
Another Indian woman icon, Kalpana Saroj's story is truly a rags to riches one. She was born in a Marathi Buddhist family and was married at 12 years of age. After suffering physical abuse and stigmatization from husband's family and villagers, she even attempted suicide. But she then decided to do something with her life. She started a tailoring business. With a government loan she started a furniture store where she worked for sixteen hours. Slowly and steadily she improved her business skills. She also built up a successful real estate business and a film production business. She became the CEO of Kamani Tubes after the company went into liquidation. She restructured the company, brought it back to profits. Today her net worth is 112 million dollars.
Srikanth Bolla
Srikanth Bolla is a lesser known rag to riches story because he was not only from a humble background but also he was born blind. He had seen rejections and insults since his childhood owing to his blindness. Srikanth did not take 'No' for an answer. He got rejected by coaching institutes for admissions to IIT, so he resolved to enter into MIT and he did it. Today he is the head of Bollant Industries which is a 50 Crore company.
Patricia Narayan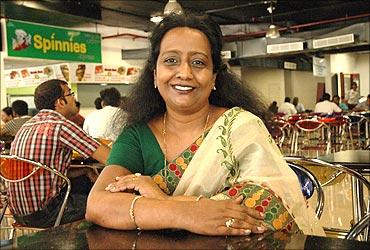 Patricia Narayan's childhood was very good. But after walking out of her marriage with an abusive husband, she had to find ways to support herself and her kids. With some money borrowed from her mother, she started a small kiosk in Chennai where she sold tea, coffee, samosas, etc. Her hardwork and dedication landed her an office canteen contract at the Slum clearance board. She later got many contracts. From running a small kiosk to partnering with a popular restaurant chain in Chennai to owning her own chain named after her beloved daughter who died in a car accident, Patricia Narayan hustled and bustled all the way from rags to riches.
India has many such famous rags to riches stories which inspires many Indians to work hard and achieve wealth and glory. We at Money Growth Guru strive hard to make every person who is facing financial problems to come out of their situation by teaching them how to save and invest their money. This is one way to accrue wealth and live a happy life.